MENGAPA
ESQ ENGLISH COURSE
DIDIRIKAN
ESQ telah menyelenggarakan training selama 18 tahun. Selain di Indonesia, training pun diselenggarakan di beberapa negara seperti Malaysia, Singapura, Australia, Belanda, Jerman, hingga Amerika Serikat. Ini adalah bentuk komitmen ESQ untuk mewujudkan peradaban emas dunia.
Salah satu bentuk komitmen yang lain adalah didirikannya ESQ English Course untuk mendukung organisasi Anda dalam mewujudkan Sumber Daya Manusia dengan kemampuan bahasa Internasional yang baik agar jaringan global lebih mudah Anda jangkau, dan pertumbuhan organisasi Anda pun semakin cepat meningkat.
'We are a leading language learning center that empowers borderless society towards golden civilization.'
Buku ESQ yang dibuat oleh DR. HC. Ary Ginanjar Agustian telah dicetak dalam berbagai bahasa seperti bahasa Indonesia, bahasa Inggris. Bahasa Malaysia, dan bahasa Arab.
Buku ESQ cetakan bahasa Inggris menjadi bukti bahwa bahasa Internasional telah menjadi salah satu alat komunikasi yang dapat menjangkau audiens yang lebih luas
Sejalan dengan ini, penting bagi Anda dan SDM di organisasi Anda untuk memiliki kemampuan komunikasi internasional sehingga dapat memperluas jangkauan Anda.
"Saya yakin bahwa setiap hal yang meningkatkan komunikasi memiliki efek yang amat besar terhadap bagaimana orang dapat belajar satu sama lainnya, dan bagaimana orang dapat mencapai kebebasan." Bill Gates

" Tim ESQ English Course adalah asisten untuk segala keperluan bahasa yang saya percaya selama ini."
Ary Ginanjar Agustian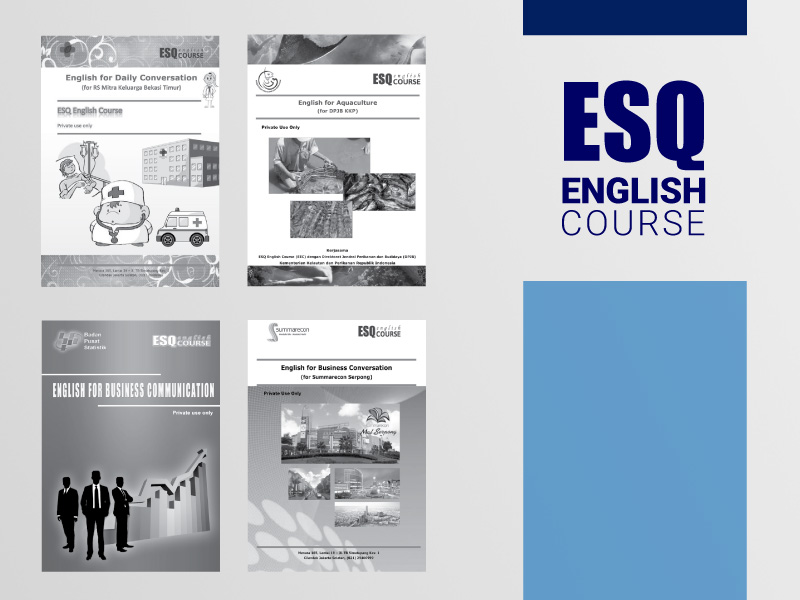 CUSTOMIZED
PROGRAM
ESQ English Course percaya bahwa setiap organisasi memiliki alasan yang berbeda dan unik untuk meningkatkan skills Bahasa Inggris SDM nya.
Keunikan ini menjadi energi bagi komitmen kami untuk memberikan program yang kami desain secara customized untuk mencapai impian Anda
BISA DILAKSANAKAN SECARA
IN-HOUSE MAUPUN PRIVATE
ESQ English Course memberikan solusi yang dirancang khusus sesuai dengan kebutuhan impian Anda.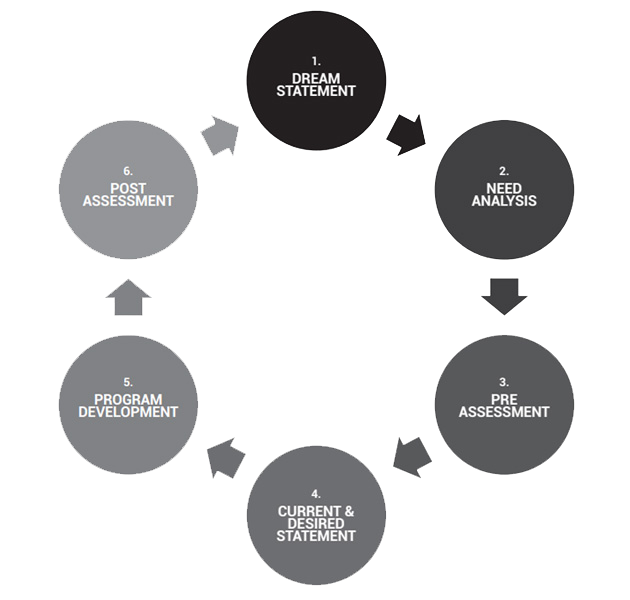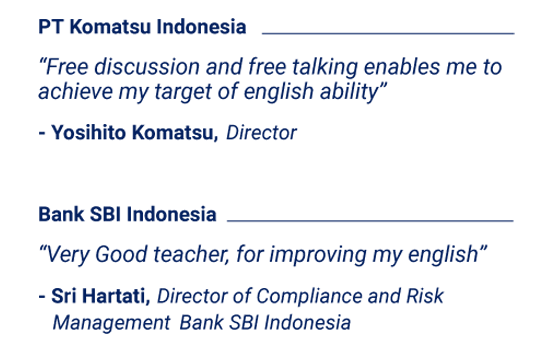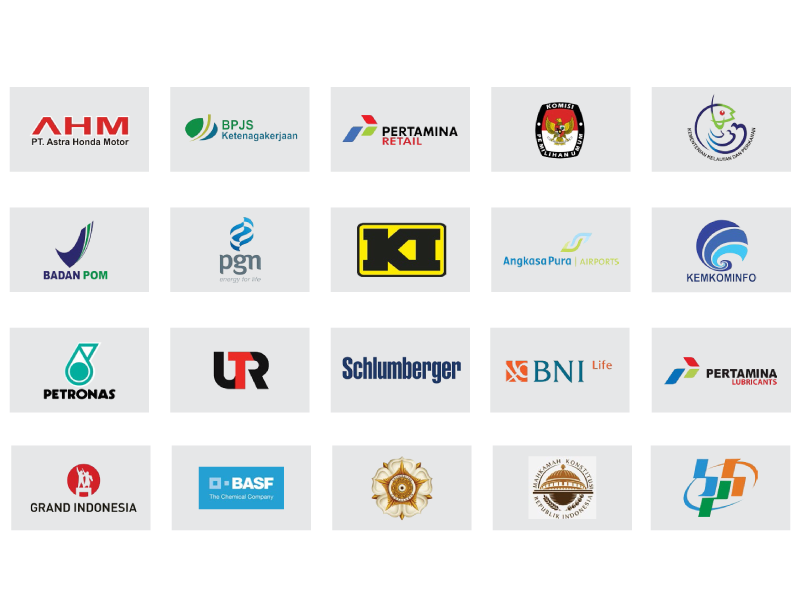 Say Hello to ESQ Course Team
Herewith the best team member of ESQ Course from various background who will assist you to find your language solution.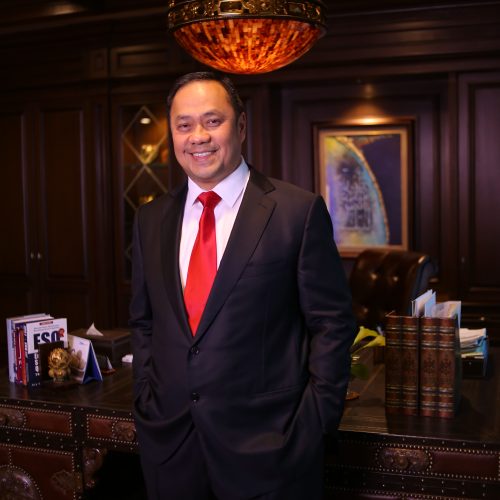 Ary Ginanjar Agustian (CEO ESQ Group) - Founder ESQ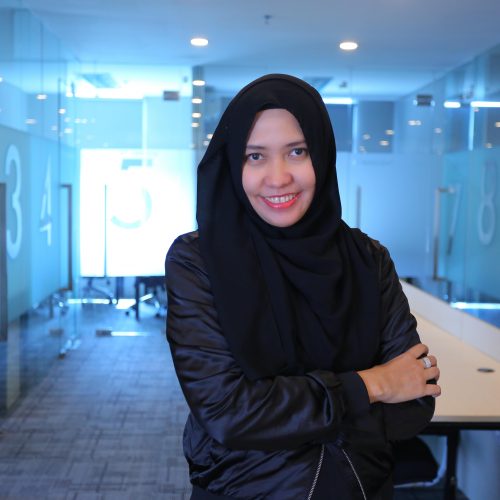 Dyah Utami Aryanti (CEO) - Having more than two-decade experience in English language field. Obtained Master Degree of TESOL and big dream of realizing a golden civilization leads Intan to a bigger vision for developing people's English competence by establishing ESQ English Course. Understanding that each person has different goal of learning, with customized programs offered does Intan expect ESQ English Course assist people to achieve their learning goal.
Mey (Academic Coordinator) - Achieving Master Degree in Linguistics and experiencing in English language teaching, Mey has more high professional interests in Teaching English as A Foreign Language, Curriculum and Material Development. This results in her success to design tailor-made modules for projects by ESQ English Course. Understanding that every learning process has different expected result as every learner has different goal, through designing customized modules does Mey ensure that the language learning materials be in line with the goal to achive after joining the course.
Cahyo (Language Consultant) - With great experience of market analysis and English language teaching, Cahyo has ability to perceive both individual and corporate basic needs of language learning. Consequently, Cahyo has successfully built cooperation with some corporations and institutions, both in private and in public sectors. Understanding people's learning goal through deep need analysis process, Cahyo ensures clients the right program to choose for achieving their goals.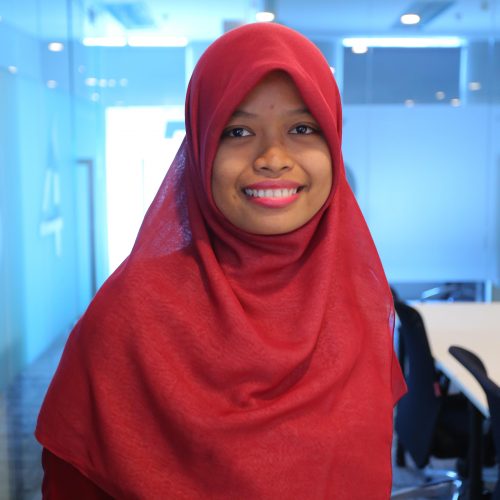 Tri (Administration Officer) - With great communication skills and personal approach, Tri is one of EEC team members who successfully delivers excellent services for anyone requiring further information before and after the course. Mastering product knowledge of ESQ English Course, Tri is able to provide detailed program information and to affirm that clients choose the proper program, the one which is in line with their goal.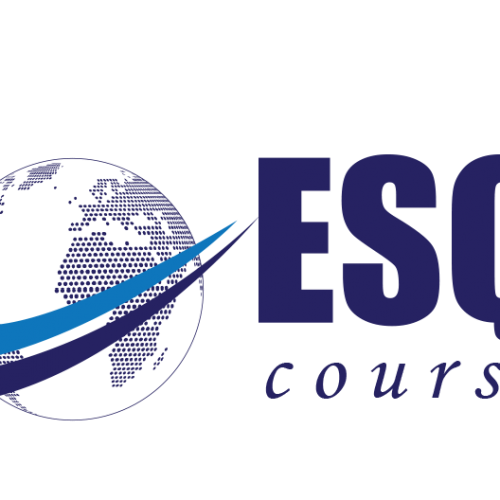 Yogi (Language Consultant) - Supported by his good communication skills, Yogi is one of EEC team members with an outstanding experience of approaching clients both directly and indirectly. Having deep understanding of people's need to improve their language skills, Yogihas successfully made networking with some government institutions and private companies. Knowing different goal of every person, Yogi is able to provide detailed program information to ensure the proper program for clients resulting in achieved goal.